J'en ai la gorge nouée et j'ai du mal à écrire...
Que dire de plus que "Longue vie et prospérité"?
Je vous laisse avec ces quelques hommages...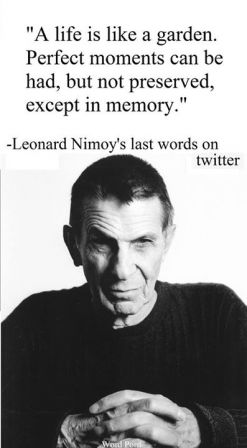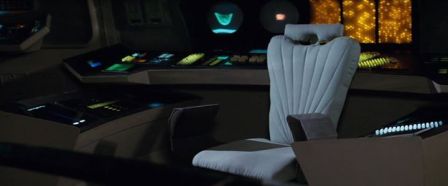 McCoy: He's not really dead. As long as we remember him.
Kirk: It's a far, far better thing I do than I have ever done before. A far better resting place that I go to than I have ever known.
Carol Marcus: Is that a poem?
Kirk: No. Something Spock was trying to tell me. On my birthday.
McCoy: You okay, Jim? How do you feel?
Kirk: Young. I feel young.
McCoy: Kirk runs in to the engine room and... No! You'll flood the whole compartment!
Kirk: He'll die!
Scotty: Sir! He's dead already.
McCoy: It's too late.
They let go and Kirk walks to the g...
Kirk: Spock!
Spock slowly walks over to the glas...
Spock: The ship... out of danger?
Kirk: Yes.
Spock: Do not grieve, Admiral. It is logical. The needs of the many, outweigh...
Kirk: The needs of the few.
Spock: Or the one. I never took the Kobayashi Maru test until now. What do you think of my solution?
Kirk: Spock.
Spock sits down
Spock: I have been, and always shall be, your friend.
he places a Vulcan salute on the gl...
Spock: Live long and prosper.
Spock dies
Kirk: No.
Je comptais bosser sur ma nouvelle des Chroniques de Gorundia mais j'ai plus le moral pour...